Winter is the time to hit the slopes. Nothing is more exhilarating than speeding down a run after some fresh snow falls.
Like with any extreme sport, you need the right gear. You know you need your skis or snowboard, your helmet, your goggles and your gloves, but what about somewhere to store your belongings? You may want to take some snacks, a bottle or two, or you're traveling and you need somewhere to store your gear.
This is where the backpack comes in, and we have reviewed our favourite skiing, snowboarding, and small backpacks that will be ideal for when you're out on the mountains skiiing or snowboarding.
Best Snow Backpack Reviewed
Backpack Comparison Table
Best Ski & Snowboarding Backpacks
The best skiing backpack is the
Outlander Daypack
, the lightweight backpack allows you to carry your gear with ease, on the slopes or traveling.
Best Snowboarding Backpack

The best snowboarding pack is the Gregory Targhee 45L Backpack, it's able to carry your essential gear, including snowboards, and it's great for traveling thanks to a fashionable design.
Best Small Backpacks
The best small backpack is the
Fjallraven Kanken Mini Classic Pack
, it's extremely well made and the history to back it up.
Best Ski Backpacks With Waterproof Cases
If your main wish is to ensure that your snowboard and ski backpack's waterproof, then the
Earth Pak -Waterproof Dry Bag
is the way to go.
Best Hydration Pack for Skiing
The best ski hydration pack is the WACOOL 10 litre Hydration Pack, huge water bladder will keep you hydrated for extended periods of time.
---
Best Skiing Backpacks for 2021
Storing your belongings or gear is essential if you're planning a skiing holiday or spending a day on the slopes, these are our favourite backpacks to help get the job done.
Outlander Daypack Review
Compact, folds into a smaller pocket for storage
Multiple compartments to store goods and valuables
Extremely lightweight, making it easier to transport and store when not inuse
Made from extremely durable nylon fabric that is tear and water resistant
Pros
Compact
Water resistant
Very lightweight yet spacious
Cons
Not big enough to store boots or gear
The Outlander Daypack is an affordable, comfortable, and rugged all-round backpack. Perfect for taking out on the slopes, a snow walk, or a hike. Store your essentials safely and efficiently.
The Outlander Daypack is incredibly compact and can be stored within an inner pocket. There's no need to carry it around while it isn't in use, you can easily store it in a handbag or carry on, and pull it out when you need it.
This backpack also comprises many small compartments to store your important essentials, as well as pockets on either side for water bottles or umbrellas. This is perfect for the days when you need something more than just somewhere to put your wallet.
With 20-30L options, this backpack can mould to your needs and do whatever you may need it to do, store some gear, a tablet, or snacks to enjoy on the mountain top.
Built to be light, but also very durable. The backpack is made from highly rip and water resistant nylong fabric, meaning this bag is strong, and will last a long time, even through regular use.
This pack is an ideal partner for everyday use, hiking, or a skiing holiday.
Click to Check Lowest Price
---
Transpack Edge Isosceles Ski Boot Bag Review
Lightweight but incredibly durable
Can carry your boots and gear
Made of water resistant polyester
Made for a variety of sports and activities
Pros
Can store your boots and other gear
Weatherproof
Made from PVC coated polyester
Cons
Can't store your skis on or in it
This all-in-one pack from Transpack can be your new best skiing friend. Lightweight and incredibly rugged, you can store your gear as well as your boots, ideal for a hiking up a mountain or traveling with your gear to your next ski spot.
The bag is made out of extremely durable, but very lightweight 600-denier PVC coated polyester, making this bag rugged and weatherproof. It can withstand an weather you throw at it and live to tell the tale. Snowstorms and rain don't stand a chance.
There is also an internal zippered pocket that you can use to store any smaller essentials, and the bag has double lock zippers, giving you the peace of mind that it will stay closed while travelling, hiking, or skiing.
It also has adjustable neoprene shoulder straps, making it incredibly comfortable to wear, and being lightweight, the only weight you need to worry about, is whatever you put in it.
This is a great pack for those of you who need more than a backpack and need somewhere to store your boots and extra gear.
Click to Check Lowest Price
---
Team Pack Ski Boot Bag Review
Oversized day pack with boot holders on side
Multiple pockets
Mesh flap to secure helmet
Carrying handle
Pros
Versatile, can carry all your gear
Large pack
Cons
Not compact
Price, depending on budget
The Team pack Ski Boot Backpack is the perfect companion out on the slopes, on a skiing holiday, or traveling with your gear. The pack has a large compartment that you can fit clothes, jackets, or other gear. There is a mesh lid to carry your helmet, and you can strap your boots to the side of the bag.
This pack allows you to carry all the gear you will need for skiing and snowboarding, as well as many extras, making this an ideal all in one pack. There are also multiple smaller pockets for you to carry any smaller essentials such as your keys, wallet or cellphone.
The pack also has fully padded and extremely comfortable shoulder straps, ensuring you still can carry the bag comfortably even if it is full of gear. There is also a convenient carrying handle making it easier to move if traveling on a plane or simply carrying it.
Click to Check Lowest Price
---
Best Snowboarding Backpacks
Hitting the slopes with a sturdy and reliable backpack is a must, especially when it's carry your gear. Here are our favorite snowboarding backpacks.
Gregory Targhee 45L Backpack Review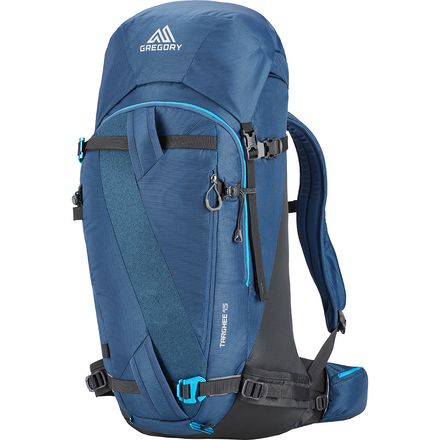 Large
Incredibly spacious
Features flaps and loops for your helmet
Pros
High-quality backpack
Versatile
Stowable vertical snowboard or snowshoe carry straps
Hydration sleeve
This large bag comes highly recommended and easily guns for the title of best snowboard backpack. This is thanks to its high-quality build and design which offers fantastic comfort.
It's one of the perfect snowboard packs for backcountry adventures as you can carry some of your gear in dedicated straps. Its VertFlex suspension offers great support by stabilizing your load and giving you flexibility by the torso.
While not completely weatherproof, it acts like a snow proof backpack by way of its molded back panel which keeps gear dry. Coming in at a capacity of 45L, you can bring along a lot of essential gear. Don't worry about heaviness as the lumbar pad pushes the weight to your hips.
This backpack for snowboarding is highly durable as it's reinforced with HD nylon in the most critical areas. This ensures that the bag is a worthy investment as it will last you many winters.
Click to Check Lowest Price
---
Athalon Everything Boot Pack Review
Made with highly durable polyester with waterproof backing
Separate boot storage sections
The bottom has a waterproof tarp to keep the inside dry

Reinforced, padded backpack straps
Pros
Can store your boots and gear
Waterproof backing
Bottom has waterproof tarp to keep contents dry
The Athalon Everything Boot bag is capable of storing all your gear (except board unfortunately) in a well organised, well designed and comfortable pack. Great pack to use while travelling or on the slopes.
Made from high density polyester with a reinforced backing, as well as reinforced straps, and padded lumbar support, making this pack incredibly comfortable to wear, no matter what you pack into it or how heavy it is.
The pack has a large main compartment, as well as separate side compartments for your boots. It also has a expandable pocket that is perfect for a ski helmet or a jacket. There are bungy cords on the front that you can use to hold other gear such as a walking pole, goggles or whatever else you may need.
The waterproof tarp along the bottom keeps all the contents dry. The boot sections has drainage holes to let excess water escape. The bag also has clips in each pocket to hold glasses, gloves or keys.
This pack is certainly a candidate for one of the best. Able to hold all your gear, as well as some extras, being incredibly strong and durable, means this bag will last a long time and will accompany you on every ski trip.
Click to Check Lowest Price
---
Best Waterproof Snowboard Backpack
These packs are designed to carry almost everything you will need on a snowboarding or skiing holiday, or when traveling with your gear.
Earth Pak -Waterproof Dry Bag Review
High quality, durable dry bag
Incredibly spacious and can store any essentials you need
Very lightweight and comfortable to wear
Benkii offer a money back guarantee if you aren't satisfied
Pros
Incredibly high quality, dry bags
100% waterproof
Multiple size options
Full waterproof smartphone case included
Cons
Cannot store boots or extra gear
Nowhere to hang/carry skis or snowboard
The Earth Pak Waterproof Dry Bag is one of the best dry bags on the market. Having multiple capacity sizes and being 100 waterproof, this bag is designed to keep your possessions safe and dry.
As their makers describe, these bags are designed to be rugged and last for an incredibly long time, no matter what you decide to do with it. Being completely waterproof, you can be sure that your gear will stay dry, irrelevant of the conditions.
The bags come in 10, 20, 30, and 40L options. All the options are equipped with backpack style shoulder straps ensuring you a comfortable wearing experience. There is also a sternum strap just in case you need that extra stability.
This dry bag is completely waterproof. No amount of rain, water or snow will be able to penetrate it. The pak also comes with a waterproof smartphone case, that can fit most smartphones. No need to worry about your device getting wet either. Great extra.
This dry bag definitely does its job effectively and efficiently, keeping all your gear and possessions dry and safe, while still being incredibly easy and comfortable to carry and use.
Click to Check Lowest Price
---
Chaos Ready Waterproof Backpack Review
100% waterproof
Made from heavy duty 500 PVC tarpaulin
22 liter main compartment is water and air tight
100% money back guarantee
Pros
100% waterproof
Made from heavy duty PVC tarpaulin
Large 22L storage compartment
Cons
Possibly price, depending on budget
Can't carry boots or board
The Chaos Waterproof pack is the ultimate dry bag. This pack is 100% waterproof and is great for winter and summer activities. A great all weather, all activity pack.
The waterproof main compartment will keep all your essentials and gear dry, and can withstand rain, dirt, and snow. No need to worry about any water getting in if you drop it in the snow or get caught in the rain.
The pack is made from heavy duty and highly durable 500 PVC tarpaulin, as well as incredibly strong seams. This bag can take a bashing and still be fine, incredibly durable and strong.
The 22L storage capacity is just the right size to fit everything you may need on the slopes. The pack also has mesh side pockets and a front storage pocket. These pockets aren't waterproof, but are great for storing bottles or other gear you have that you don't mind getting wet.
This bag comes with a 100% money back guarantee, but from what we've seen and reviewed, we don't think you are going to return this bag anytime soon. It is a great all year, all activity pack.
Click to Check Lowest Price
---
Skog Å Kust BackSåk Waterproof Backpack Review
All-weather protection
Made from heavy duty 500-denier PVC with high-frequency welded seams
Available in 25 & 35 liter sizes
Various colors
Pros
Waterproof
Made from heavy duty PVC tarpaulin
Large 25L or 35L storage compartment
Reflective patch and trip around zipper ensures visibility in low-light conditions
Cons
Cons
External pocket isn't as waterproof as the bag
Can't carry boots or board
The Skog Å Kust BackSåk is the perfect buddy to bring along on rainy days. Apart from your snow expeditions, you can repurpose it during the summer as a fishing, camping, and hiking bag.
The bag's main compartment will protect your all gear stored inside, this includes your electrics which have a dedicated internal pocket. While the spacious exterior pocket isn't as waterproof as the interior, it can withstand minor splashes as it's splashproof.
The pack is of incredible quality as it's made from heavy-duty 500 PVC with highly durable welded seams. Despite this strong build, the bag weighs just two-and-a-half pounds ensuring you don't have any extra baggage.
To ensure you're comfortable during your outing, the back is EVA foam padded and the straps are cushioned and adjustable. The D-rings on the side allow you to attach different items like water bottles and gear.
You can close the bag by just rolling down the top and clicking the click to create an instant handle, or use the side clips to adjust for a compressed fit. This saves you the hassle of having to wrestle your bag in bad conditions.
Click to Check Lowest Price
---
Zipline World Cup Backpack Review
Waterproof interior
Completely waterproof design
Mesh flap holds helmet
Padded straps for comfort
Pros
All in one pack
Waterproof
Cons
Price, depending on budget
Bulky
The World Cup Backpack by Zipline is a very large, almost completely waterproofpack that allows you to carry clothing, your helmet, your ski boots, and any other essential gear you may want to travel with or take up on the slopes. This all in one does its job absolutely brilliantly and won't let you down.
The enormous main compartment allows you to carry pants, shirts, and even your skiing jacket. It is also waterproof meaning your gear will stay dry no matter the conditions. The waterproof reinforced nylon material is super strong and durable, and the waterproof zippers ensure against leaks.
The pack has a fold away mesh flap that zips into the bag and can be used to hold your helmet. The padded shoulder straps, as well as the sternum and waist straps are super comfortable and spread the weight of the pack evenly preventing any strains when carrying a heavier load.
The pack has multiple smaller pockets that allow you to carry multiple smaller pieces of gear, and there is also a sleeve that you can use to store a laptop or tablet. This makes the pack one of the best skiing or snowboarding holiday packs around.
Click to Check Lowest Price
---
Best Small Ski backpacks
Sometimes you may just want a small backpack to carry a few personal belongings, such as a camera, wallet, keys, or whatever you may need out on the mountain.
Fjallraven Kanken-Mini Classic Pack Review
Made from dirt and water resistant vinylon F
The mini version of the iconic Fjallraven Kanken Classic
Small and compact, can store all necessary essentials
Incredibly versatile and can be used for most outdoor activities during winter
Pros
Historically brilliant brand and bag
Small yet functional
Made from high quality and strong materials
The Fjallraven Kanken Mini Classic is the smaller sister pack to the classic Kanken pack that has been around since 1978. This pack definitely has history on its side.
This bag is made from strong, dirt and water resistant Vinylon F. this bag is rugged and durable and can handle almost every environment. You can easily wipe away any dirt, this bag is very easy to clean and keep clean.
It may not be the biggest bag, at only 7L, but for a small bag, it is actually the ideal size. You can easily store your essentials, keys, wallet etc, and be sure they will be kept safe and dry. The bag also has a rain flap so that rain can't sneak its way in case you get caught in a storm.
The bag is versatile, and is fitted with shoulder straps so that you can carry it on your bag. The small size makes it a great bag to take while skiing and snowboarding, and you will barely feel it's there.
Click to Check Lowest Price
---
Gowiss Backpack Review
Very small and can be stored in a jacket pocket until needed
Highly durable, rain and snow resistant
Has many pockets and compartments to store everything in an easy and convenient fashion
Mulit-functional, can be used skiing, snowboarding, hiking etc.
Pros
Foldable, can be stored anywhere when not in use
Lightweight but durable
Large storage capacity
Cons
Not big enough to store boots or helmets
Not waterproof, just water resistant
The Gowiss Foldable Backpack is a brilliant little pack that is durable, waterproof, and incredibly light. Being foldable, it is also possible to store it in a pocket or travel bag, and take out when needed.
Being foldable, the backpack can fold up into an inner pocket and be stored in a handbag, a jacket pocket, or a bigger travel bag. You can also take it along with you just in case you may need a backpack on the trip.
The pack is water resistant, but not waterproof. If the pack falls into a pool, it will leak, but rain and snow will run off of it. The bag is made of a high quality and durable nylon material. Water resistant is a plus, but be aware, it IS NOT waterproof.
The pack is a classic and recognised backpack shape, and has a number of compartments to store all your belongings in an easy and convenient way. It also has two mesh side pockets to hold sunglasses, water bottles, or whatever else you may want to take.
The pack is very lightweight, you won't even notice you're carrying it. It is multifunctional and can be used on the slopes, hiking, walking, or just general travel. It also comes with a 90 day warranty.
Click to Check Lowest Price
---
ORICSSON Lightweight Foldable Backpack Review
Made from lightweight, waterproof, and tear resistant nylon
Very compact, can be folded into the small bag provided to store anywhere
At 35L, it is spacious and roomy and can store whatever you may need for the day
This backpack can be used hiking, skiing, snowboarding, or a day out on the mountain
Pros
Lightweight and foldable
Waterproof and tear resistant
Comfortable
Cons
Zipper area prone to leaks
The 35L Oricsson Lightweight foldable backpack is a durable, strong, waterproof, and tear resistant foldable backpack that can bend to your needs, depending on the day or activity.
The backpack is incredibly sturdy and from high quality, waterproof, tear resistant nylon material. The pack is fitted with metal zippers, and the 31 stress points are reinforced with bar tack, the shoulder straps are padded and incredibly comfortable.
The large storage capacity can hold a number of your possessions. The inside has large pockets, there are smaller pockets for small accessories, as well as outer mesh pockets that can hold water bottles etc.
Being foldable, the bag can fit into a pocket, or into a travel bag. It is also lightweight and can stored and carried very easily. The bag has multiple uses and can be used for a hike, a day trip, a day on the slopes or just for travel or storing items.
Click to Check Lowest Price
---
Best Ski Backpack with Hydration
You don't want to get caught out on the slopes thirsty, that can end a great ski or snowboard day very quickly. With these hydration packs, we are sure your thirst will always be quenched.
WACOOL 10 Liter Hydration Pack Review
Made with waterproof polyester
Large 10L water bladder
Thickened and cushioned straps and bag for comfort
Can store a laptop or tablet, as well as any other small essentials
Pros
Large storage capacity
Waterproof
Lightweight
Cons
Lid prone to leaking if not screwed on correctly
Much like the Wacool we just reviewed above, this Wacool 10 liter pack has more storage capacity, with the same sturdy design and reliable functionality.
This pack comes with a 2 litre bladder to store enough liquid for a hike or a few runs down the slopes, as well as the air flow system that will keep your back dry and cool on warmer days. And in our opinion, it's the best hydration backpack for skiing
The pack also has the double layer design, with the bladder being in a separate compartment. The pack has a 10 litre capacity, meaning not only can you fit your laptop or tablet in it, but also a range of other gear or accessories you may need.
The pack comes with fully adjustable, wide and comfortable shoulder straps, with a thick and cushioned pad design. The pack also a drawstring, allowing you to hang a helmet, goggles, or whatever else you may need at hand.
Click to Check Lowest Price
---
Mubasel Gear Hydration Backpack Review
70 ounce water bladder, enough to store a good amount of liquid
Made with thermal insulation to keep drinks cool
Comes with 3 compartments to store valuables
100% leak proof design
Pros
Thermal insulated 2 litre bladder
Extra compartments for more storage
100% leak proof
The Mubasel Gear Hydration backpack is designed to be rugged, and strong for and all outdoor activities. It can hold 2 litres of liquid, as well as having 3 storage compartments that you can use for other gear, or even another water bladder, depending on your needs for the adventure.
The water bladder is completely BPA free, and an email with these details will be sent to you if you want to confirm. The bladder also has thermal insulation to keep the liquid cold and refreshing.
The bag has multiple compartments for you to store extra gear in, as well as mesh side pockets store extra bottles of liquid. The bag also has a 100% leak proof design, ensuring your gear in the bag won't get wet, and you won't lose any liquid.
This bag is very comfortable to wear, as well as being light. It's perfect to take out on a hike, a walk, or when you're tearing up the slopes and need a refreshment.
Click to Check Lowest Price
---
Dakine Heli Pro Backpack Review
Designed to carry your skis
Equipped with a goggle compartment
Hydration compatible
Can also carry a tablet or laptop if need be
Pros
Can carry your snowboard or skis
Fitted with goggle pocket
Can carry laptop or tablet if need be
This Dakine Heli Pro is any skier's dream backpack. Fitted with a place to put your skis, as well as a fleece lined goggle pocket, and a place to store your laptop and tablet, this is a great pack for any snow sport enthusiast, made by a well respected and known brand.
With a 20L capacity, you are sure to have enough space to carry everything you will need for a day out on the slopes. The fleece lined goggle pocket ensures your goggles will be kept safe and not be damaged by a fall or by something else you keep in the pack.
This pack is also hydration compatible, meaning all you need is a water bladder and this can double as the ideal hiking or trekking partner. Definitely a useful feature if you're planning on having an extreme day on the slopes and need a drink.
This pack also comes with a rescue whistle on the sternum. If there's an unfortunate accident and you don't know where help can be, this is an extremely useful addition that can definitely come in handy.
This pack has been described as a bit of a chameleon by some reviewers, as it can do and be whatever you need it to be for the day. A ski pack, a hiking pack, a bag for travel or even for work or school. If the price isn't a problem for you, we highly suggest investing in this great all round pack.
Click to Check Lowest Price
---
WACOOL Hydration Bladder Pack Review
From from waterproof and anti scratch nylon
Can store 70 ounces of liquid
Padded and incredibly comfortable to wear
Comes with a compartment for a laptop or tablet, as well as smaller compartments to store essentials
Pros
Waterproof
Comfortable to wear
Can store a laptop or tablet
Cons
Lid may leak if not screwed on correctly
The Wacool Hydration pack is lightweight, waterproof and made from anti scratch nylon. It is also designed with an air flow system that helps keep your back cool and dry on warm days.
The pack is made with a double layer design, meaning the water bladder is kept in its own compartment, giving you extra space to store other gear. It has comfortable shoulder straps as well as a thickened back.
The large capacity pack has space for a fully filled bladder, as well as extra space for a laptop, a tablet, or any other pieces of gear you may need. Great for a hike.
Click to Check Lowest Price
---
There you have it, those are our reviews on the best backpacks for your winter adventures. We've dived into some top-notch packs for skiing, small ones for convenience, and the best snowboarding hydration packs. We are sure you will find the right pack for whatever adventure you may find yourself on.
Extremepedia is a participant in the Amazon Services LLC Associates Program, an affiliate advertising program designed to provide a means for sites to earn advertising fees by advertising and linking to Amazon.com. Amazon and the Amazon logo are trademarks of Amazon.com, Inc. or its affiliates.